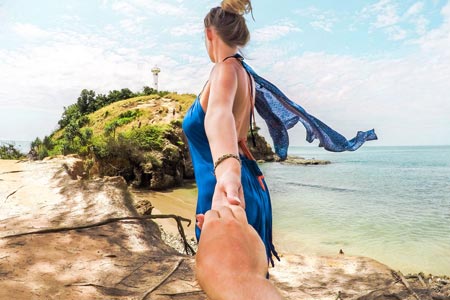 You've got yourself a married cougar and finally figured out the safest way to be with her is out of town. Your next step is figuring out where to take her on vacation to get the most out of the trip. Vacations with a married cougar could be anything from a B&B stay and weekend antique scouting agenda to an all-inclusive coastal destination for long days and cocktails on the beach. The destination isn't so important in its success as the factors surrounding the trip. There are several things you'll want to include during preparation to make sure everything goes according to plan.
Beaches, Islands, and Cruise Ships
Your girl wants to see the ocean and you want to be the one to take her. Before you sail off into the sunset there are a few things you should consider. Is there a beach near you? If you go for someplace relatively close to home, you'll need to make sure you aren't seen. A good way to do this is to stay in a nicer hotel (Top Rated Hotels In The US) than your friends and family can afford or to go the other route and stay in a hostel or camp. Chose the route your least likely to be discovered in. If you are going to play it safe and go somewhere far from home, you'll need to make sure you have your back covered. Keep all ticket and travel information secret. If your looking for a cougar on vacation, there are some cruise lines that offer Cougar Cruises where cougars and cubs can meet and mingle.
Casinos and Gambling Boats
It is a lot of fun to get dressed up and hit the casinos. Pretend to be Aces in Casino or Henry Hill in Goodfellas. Have your mistress blow on the dice before you throw them and walk around with a martini in your hand all night. Its even more fun if you're on a winning streak. Just penny slots can be a lot of fun when you're coming out on top. It is when you are losing that things aren't as much fun. If you chose to go gambling with your mistress on vacation, know that it could turn bad and you lose. Always have a designated amount of money you plan to gamble. If you lose it, that is all. You're done for the trip.
Concerts, Events, and Festivals
Sometimes its fun to just pack up and take off to some happening in another part of the world. It could be your favorite band in concert four states over, or maybe its an art exhibit you won't get a chance to see at home. It is exciting to choose a destination and journey and then to tackle it with someone you love. It builds a bond between you to share experiences outside your comfort zone. To venture outside of home base together strengthens the connection between you. Make sure it is far enough away or obscure enough that no one you know will be there as well.

B&B, Camping, and Secluded Getaways
In situations where you are basically secluded, or with a group of total strangers, you have few worries. Bed and Breakfast vacations have you with only a few other residents and all have their own agenda on their minds. Going camping is always safe. No one else is around. You can do as you please and enjoy your time alone. Resorts and hotels are pretty safe too. Especially if you chose one billed as a secluded getaway.
There is an endless array of great places to take a married cougar on vacation. Just to be safe, ask her where she wants to go. Give her a choice of a few different ideas and then see what kind of magic you can work. More depends on the opportunity to blend into the environment and be a normal couple than the actual location. When you can make that happen for her, for a few days at least, you'll have a very happy woman on your hands.