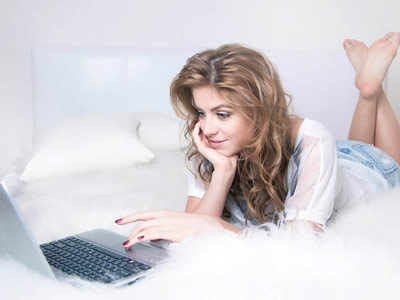 Your profile is a key component in your success at scoring with bored & lonely housewives. It is quite possible THE MOST IMPORTANT FACTOR in whether or not you get laid on a regular basis, because it is the only thing these women have to form a first impression of you. If your profile doesn't do it for them, they'll cruise right on by without stopping. On the other hand, a great profile will really make you stand out, because there are so few men with excellent profiles on lonely housewife and cougar dating sites. Not only are most guys not cranking out killer profiles, these idiots are putting up crap like this…
Examples Of What NOT To Do
Does your husband have a needle-dick? You need to have an affair with a plumber. I know how to lay some pipe, and I guarantee that it's big enough to fill you up. I'll get you so wet, the hotel will have to call maintenance to clean up the flooding when we're through.
Or how about this loser?
RU dwn 4 the bangfest of UR life? I gotta cock that will rock U like U never ben rocked B4. So bitches hit me up if UR horny.
These profiles are way off base. You'll find thousands just like them on every last lonely housewife dating site out there, and not a single one of those guys will ever get laid. Just in case you're not sure what's wrong with them, let me break it down for you.
Here's what these guys got right:
• Both of them are too short.
• Neither one of them tells anything about the guy except that he thinks he has a big Johnson and is looking for sex.
• They're both too sexually explicit. This actually turns women off, and maybe even scares them.
• Text speak and misspelled words make you look like an immature, illiterate idiot.
Now that you know what to avoid in your profile, here are a few examples of profiles that married but lonely women will actually be attracted to. Feel free to copy/paste and use them on and of our approved affair sites:
Examples Of Profiles That Work!
Hi, ladies! I'm a married, professional, all around nice guy. I just celebrated my 40th birthday, so I'm interested in meeting women who are mature, discreet, intelligent, and uninterested in drama. While it's true that I'm looking for an affair, I'm interested in meeting ladies who are fun-loving, interesting, and perhaps share some of my hobbies, so that we'll enjoy each other's company in more ways than one! So if you love soccer, cheesy '80s movies, or New York Times crossword puzzles, you get bonus points!



I made the mistake of looking at some of the other guys' profiles before I started to write mine. That slowed me down quite a bit, as I had to go take a shower, because just reading them made me feel gross! Since you're reading this, I guess it's safe to assume that you haven't yet succumbed to the urge to scrub your eyeballs with Ajax after reading that garbage and aren't blind, so that's a relief! I'd hate to think that those schmucks would be the last thing you saw, when I'd love to show you that there are still some men with class who know how to treat a woman. I'm 36, shower on a regular basis, have been told that I have a nice smile, and if we meet for drinks, I'll prove to you that nice guys still exist!
Three fun and random facts about me: 1. I grew up in Italy, where I was raised by my amazingly strong single mother and grandmother, and I'm not ashamed to say that these two women are my heroes. 2. We moved to Texas when I was fifteen, and I learned how to ride horses and got into the junior rodeo circuit. Yes, I am a real live cowboy (who just happens to be from Italy!), and 3. I'm a vegetarian. An Italian, cowboy vegetarian. I swear it's all true! Who could make something like that up! If you've had an equally interesting and crazy life, send me three fun and random facts, and we'll take it from there!
Here's what these guys got right:
• They used proper spelling, grammar, and punctuation.
• They didn't say anything nasty or explicit about sex or women.
• They showed some personality and talked about things other than sex.
• They wrote enough to let the women reading get a feel for who they are.
Remember that you're trying to appeal to mature, married women, not horny, childish sorority girls who still play beer pong and think a guy jizzing on her boobs is a romantic gesture. So keep it rated G to PG-13, and save the X-rated talk for when you're in bed with her. Appeal to her desire for safety and discretion. Send the message that you're a nice guy who knows how to treat a lady, and you'll be respectful and show some interest in more than just screwing her. You also need to remember that since you're dealing with women, not girls, you've got to come across as intelligent. If you spell like a fifth grader or create a profile that looks like a teenage boy's text messages, she'll be turned on and will never give you a second glance.