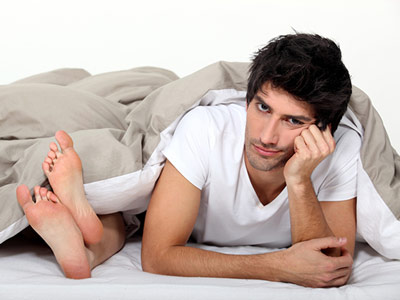 Landing a relationship with a cougar is no easy task. These women are confident and secure. They know what they want and they go out and get it. Cougars have life and sexual experience that most younger men will not have available to them. Sex with a cougar is hot, exciting and thoroughly exhausting. At first. Just like every other relationship, however, they can hit plateaus where the sex is less than spectacular. Keeping things exciting in bed is essential in a relationship and maybe even more so with a cougar whose seen it all.
Change up Your Foreplay
Foreplay is essential to good sex. A woman's need for quality foreplay is documented (Read about it) and any man with sexual experience past high school has seen it firsthand. The key to successful foreplay throughout a relationship is variety. Most couples fall into a predictable sex routine they repeat night after night. They each repeat the same moves at the same time and then begin sex. Changing up the order of your sex moves and adding a few slight variations is all it takes to keep things exciting. Instead of kissing on the lips try kissing her back or neck. Let her see you admiring her beauty a few hours before bed to really get the ball rolling early.
Rework Your Tempo
Going at it with the same velocity and speed every time can be boring. Even with someone you're really attracted to, the same old tempo gets dull fast. Instead vary the speed and depth of your thrusts several times during the action. Use her breathing as a guide but know when to slow down as well. This simple trick works amazingly quick to amp up the fun level. If you pay close attention to her reactions you can take your love making to a new level.
Setting Changes
Take a closer look at the ambience wherever you're having sex. Is it all it could be? Setting the right ambience is very important! Try changing the place you have sex. Go all the way crazy and get it on in a public park or parking lot. If that's not your thing go out in the backyard at midnight or at the very least, switch up the room in your house you have sex in. Music, candles and a change in lighting can do a whole lot to change the mood and feeling when you're going in for the kill.
Costumes and Props
If you're not really into props and costume and role-play, take it slow. Introduce small things like a flavored lube or one that heats up. Move into furry handcuffs or a blindfold and see how she likes it. It may begin to grow on you. There is no rule that says you have to go full into rubber suits and riding crops. Stay in your comfort zone until your imagination demands more from you. A vibrator or crotchless panties could be just the thing you need to spice up the waning bedroom ritual in your relationship.
Change Positions
Even if you can't achieve orgasm in a certain position or it seems uncomfortable to you, try it every now and then. Sex gets very stale when it is performed in the same routine every time. But it's even worse when it consists of the same positions, here are some ideas. Missionary position is great but it shouldn't be your only move or even your go-to move. Every time you have sex you should try a different position at least for a minute. Investigate the world of sexual positions in books like the Kama Sutra. Men's pop culture magazines usually have tons of articles on sex and positions to try. If you feel really adventurous buy a sex swing chair so you can defy gravity with your sexual positioning.

Time Change
Do not resort to only having sex before bed. Many people say they don't have time or their schedules don't allow for it, but there is always time for a quickie. Try early morning sex or wake her up in the night. Slip home from lunch at noon and surprise her with a little afternoon delight. Changing the time of day you have sex can do a lot for your sex drive too.
It doesn't take a lot to add excitement to a waning sex life. There's nothing to be afraid of. She already wants to be with you so you have nothing to lose with a little show of creativity. Taking the initiative to make things more exciting in bed not only helps out your sex life but it shows her that you are paying attention to the relationship and it still means a lot to you. That in itself goes a long way in spicing up romance. SO go ahead, step it up a notch.