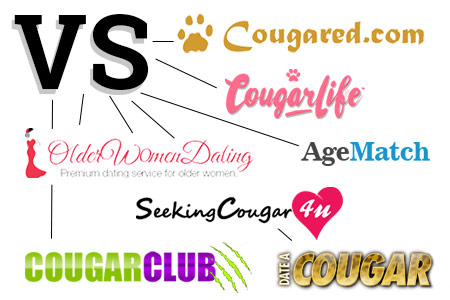 You can sign up for all of the cougar sites you can find but if you aren't on the biggest cougar dating sites, you won't get the results you are hoping for, if you get any real results at all. While it is good to try as many sites as you can, you want to find the ones with a lot of members, features, extras for the lowest price. This is a much more fun task than trying out coffee makers or dentists but if you want to cut to the chase, here are the biggest cougar dating sites ranked.

Date a Cougar is super popular. It is a specifically cougar/cub geared site and everything there makes it obvious. It isn't one of those services that shares a database with several other dating sites of different niches and feeds you a bunch of matches that make no sense or won't work out. They have a huge membership base of 10,000,000+

These guys have over 5 million members and the community continues to grow daily. Their tools are user friendly and there is an indicator of the active members online at any given moment. That is really handy when you want to get a real-time idea of how many members you can potentially interact with.

Cougar dating sites like Cougar Life are a dream come true with their large and growing community of lively cougars. They are one of the cheapest of all the cougar dating sites but don't scrimp on the benefits. It has a modern look and easy to use tools that make spending time on the site fun no matter what you're doing.

Cougared is one of the smaller cougar dating sites. It doesn't have the most members but those who are there are active and friendly. Its biggest perk is that it is 100% free. Couple that with its small but substantial 800,000+ members and you're sure to get a date with a cougar in no time. The aesthetics are a bit out of date but this site is well worth the time for those on a budget.

This is a hard cougar dating site to rank. It shares a database with a site known for quick hook ups but also some of the biggest cougar dating sites around. So, while you may get a gal who is older, she may only be interested in one thing. This may or may not be a good thing. There are no options for live chat, which is a bummer no matter who you are looking to date. There is very little privacy here as well. This is a big issue for those who don't want their profiles observable by the public. The subscription prices are fairly low and that can make up for its faults for some users.

Age Match is a cougar dating site, but it's also a dating site for all types of age-gap relationships. Because of this, there are many niche daters online at any given time, although they may not be cougars. This can be good because there is always someone to talk to if not date. It shares a database with Successful Match as well. The price is a bit high but unfortunately there is nothing worth paying for. Most cougar dating sites offer for free what they ask you to pay for. The searches are basic and there aren't many extras to be found. While it is a cougar geared site, there are several others that offer more.

Since Older Women Dating is a cougar dating site that uses the database of Successful Match, it is low on the list. This does mean that there are many members but not all of them are going to be cougars. You may still find a date but it may not be a cougar and if that is what your specifically looking for, getting a bunch of 20-somethings in your inbox can be frustrating.