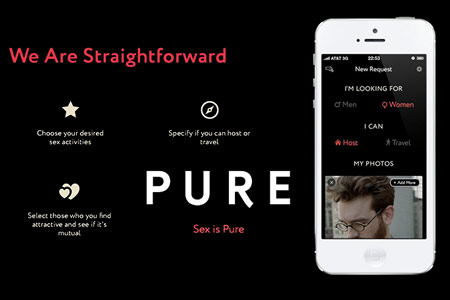 The dating app Pure —-> Download Here – Google Play / Itunes is known as the most risqué app on the market. They make no bones about their business objective and brand themselves as the ultimate hook up app. Pure embraces the eroticism of the one night stand and encourages its users to imbibe in their hedonistic side. Even their website states that there should be no contact after meeting and if you should see each other in public later, do not acknowledge it. With a platform like this, men all over the globe are wondering if you can meet cougars on Pure. The answer is a resounding Hell Yeah!


Meet Cougars on Pure by Adjusting Your Settings
Pure is just a regular dating app in most respects. Its differentiating factor is that it is unapologetically casual. No commitment allowed. What a perfect place to try your hand at cougar dating or get a quick fix when you crave it. The easiest way to meet cougars on Pure is by setting up your account to search for them. Account sign up requires you to choose a set of criteria that your matches will be drawn from. You can set the preferred distance from you as well as the age range. Set the age range indicator to match the age of the women you're looking for. If you're looking for a woman in her 40's, 50's or even 60's, just set the age indicator and wait for the MILFs to roll by.
Use the Photo Feeds to Meet Cougars on Pure Right Now
Once you've signed up on Pure, you are able to upload a photo. That photo is an important one so choose wisely. It becomes your invitation to meet cougars on Pure. For one hour after upload, your photo is added to the people in your area photo feed. After an hour, it is deleted forever without a trace along with all messages you may have sent and received in the time period. Some people in your area want to meet right now and you'll see those women in the photo feed also. Look through the feeds for older women who interest you. Choose someone at least 10 years older than you and in an area close enough to meet for a few hours and head back home without much trouble. You can take your photo down and eliminate all trace of your account by just deleting it through the My Request button.
Meet Cougars on Pure When You Click
After checking out the photo feeds, you will have found several cougars in your area, some willing to meet right that moment. As soon as you find someone who tickles your fancy, click Yes on their pic. This action will immediately notify her of your interest. If she has a mutual interest, a chat window opens a line of communication between you. This may not happen immediately. She may not log on to see it before it expires. Since everything is so secure and anonymous on Pure, things disappear quickly. You can meet cougars on Pure on any day you have the time by choosing a cougar who wants to meet right now. She will be on the site and waiting for a reply.

Meet Cougars on Pure in Person
Are you prepared to meet a cougar on Pure when that chat box opens and you're on the spot? Do you know what you will say to get the ball rolling, and more importantly, seal the deal? Both of you showing interest in each other is the signal to open communication and you only have one hour to do it. After that, your connection on the Pure app is broken. If you haven't already given each other contact information, you never will. You have to move fast so don't waste time with idol chitchat. Swap phone numbers and arrange a meeting ASAP. One hour later all traces of the conversation will self-destruct.
Meeting cougars on Pure is simple and fun. There are many women interested in casual sex and just as many are older women looking for a young guy for fun only. You can't lose.