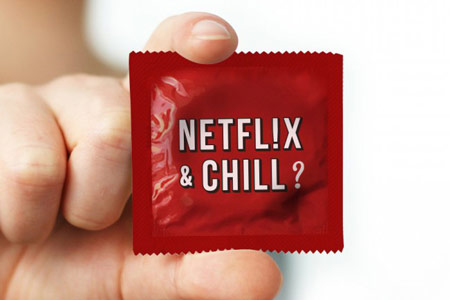 If your dating a mature woman, considerably older than you, you're a cub. You are a cub and she is your cougar. Deal with it. Older women are more developed mentally and emotionally. This isn't their first rodeo. Emotions aren't worn on their sleeves and you're not likely to see any of the tears that so easily spring up in relationships with younger women. They are also more in tune with their body's needs and more accepting of their own bodies. That being the case, you'll want to cater your date nights to please her, which means something slightly different than if you were dating a younger woman.
No matter how old you are, everyone loves the occasional Netflix and chill date. It's a chance to settle in, in comfortable clothes and a cozy environment, and watch a movie together. It encourages snuggling and close touches. The environment is conducive to deeper conversations and a stronger chance for emotional connection (Learn How to have an emotional connection here). For women in general, but especially cougars, these types of dates foster a feeling of closeness, togetherness, that serves as a glue to strengthen the relationship. The movie you choose will have a direct effect on what happens during the night.
Cougars are just women and each woman has a preference all her own concerning favorite movie genres. However, unless there is a genre that she just hates and despises watching, your safe with just about anything. A good tip is to get a movie of each type and let her choose which to watch first and subsequently afterward. There are some really wonderful movies that can illicit the perfect emotions for a Netflix and Chill date with your cougar in almost every genre. You don't have to stick to romance or romantic comedies to get the desired effects. Consider one of the great flicks below when planning your next movie night with your cougar.
Don Jon
Joseph Gordon-Levitt stars as a cock of the walk type guy who should have been on Jersey Shore. He gets involved with two different women, played by Scarlett Johansson and Julianne Moore. One is younger and one is older. See where this is going? He dates the younger, hot woman to be able to have a perfect 10, gorgeous gal on his arm. He wanted the bragging rights and enjoyed the happiness it brought his parents to see him settled down in a relationship. Eventually he realizes she doesn't love him for who he is and when he finds the older gal, she's still hot and sexy but in a more settled, confident way. She guides him, teaches him, in self-awareness and acceptance. He learns how much more there is to love than a young body. It isn't hard to see how this could pull on the heart strings of your cougar and make her aware of just how much you care.

Say Anything
This John Cusack vehicle is some of his best work. It is a tale of opposites attracting and overcoming the odds. We get to watch as a charming underachiever and high school valedictorian become close, only to be torn apart by her father. Ione Skye and Cusack gave such a phenomenal performance this is still known as a great date night movie although it was released in the 1980's. The depth and gravity of the pain these opposites go through to be with each other is heartwarming. Date night movies should make you feel good and this one does just that. It has the added advantage of pointing out all the benefits of unusual relationships. Just in case your cougar forgets.

The Terminator
Don't laugh. The Terminator is a great date night movie for a cougar who enjoys scifi and adventure movies. It manages to intertwine a romantic tale into one of the best time travel movies ever made. The future is post-apocalyptic and a cyborg is teleported to 1984 to stop the birth of a future rebel by killing his mother before he is born. It stars a buff Arnold Schwarzenegger in his prime and Linda Hamilton as the young mother. Its action packed and still amazing to watch after all these years.

The Graduate
Last but not least we list The Graduate. This movie stars Dustin Hoffman and Ann Bancroft. He's a high school graduate that gets wrapped up with a female friend's mother, Bancroft. He likes them both actually and even though he loses his virginity to the mom, he falls in love with the daughter, despite having been told to stay away from her. This movie is tricky choice because the older woman loses out in the end. She is, however, instrumental in life changes and lessons that are extremely important.

Netflix night is a growing option for daters of all ages. Take advantage of some of the great movies available to treat your cougar to a special night.