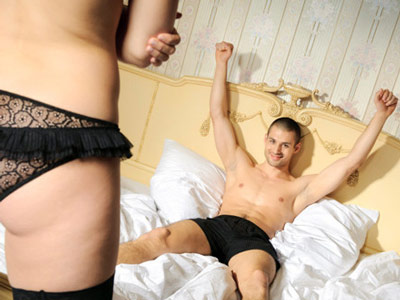 Congrats! You've made it through mastering the psychology of connecting with lonely housewives & cougars, learning how and where to meet them, using affair dating websites, and making contact with some hot married but lonely women. The last step is planning your first date in such a way that you'll maximize your chances of closing. It's not enough to get women to agree to meet you, if you haven't done your homework on this part, it will all be for nothing. You don't just want to have some drinks and a conversation, you want to get laid, and if you follow this formula, your chances of that happening will go up considerably.
Location, Location, Location
Location matters. When you're planning where to meet an affair for a first date, try to choose a bar that's either in a hotel or a very short walk from one. The more complicated it is to get from point A to point B, the more time she'll have to rethink the situation or decide that it's just not worth the hassle. You want to get her turned on in the bar and then move to a more private location as quickly as possible while she's still all hot and bothered.
The atmosphere of the bar also matters. You should choose a bar with dim lighting, booths or other seating that allows for close proximity to make touching easier, and maybe some soft, sexy music. You don't want to go to a bar with blasting TVs or loud, thumping club music. You want to be able to have a private conversation without yelling, and the environment should feel intimate. You want it to set the mood for what you're hoping will follow.
Dress For Success
When you're getting ready for your date with a married cougar, you'll want to put some effort into how you look. If this woman is turned off by her husband, chances are high that he no longer puts in any effort to look good for her, so use this in your favor. Don't go too formal with a suit, but don't dress like you're going to a ballgame, either. A nice button-down shirt, either with or without a tie, a blazer if the weather is chilly, and new jeans is fine. Pay attention to accessories and details, too. A good watch, leather belt, and nice shoes can make all the difference between looking casual or pulled together. Grooming is also important. Make sure your hair looks good. Tweeze your eyebrows (and nose and ears) if they need it. Just a hint of a nice cologne is sexy, too.



Try to arrive a few minutes ahead of schedule so you have time to select a good table, order a drink, and get comfortable before she arrives. Greet her with a warm smile and open body language. Giving her a hug is a good way to break the ice and establish connection through touch. Offer to buy her a drink and tell her how nice it is to meet her. Compliment something about her appearance or outfit.
Closing The Deal With A Married Cougar
Your goal is to get her in and out of that bar in less than an hour. You don't want to rush things too much, so don't invite her to get a room with you within the first fifteen minutes. Make conversation first. Ask her some questions about herself, and then follow up with questions or comments about her answers so she knows you're paying attention. Tell her some things about you, too. Preferably, things that you have in common with her in order to make her feel relaxed. As you talk, try to make casual contact with her by touching her arm or giving her hand a light squeeze. Any time she responds positively, take it just one step further. If you get to the point where she lets you kiss her, you're in.
Somewhere between twenty minutes and an hour, she should be plenty relaxed and ready to take things to the next level if you're doing things right. Read her cues. When she's initiating touch, moving her body closer to yours, making suggestive comments, or seems turned on, ask her if she'd like to go somewhere more private. As soon as she agrees, pay your tab and get out of there!
Remember that there's still time for her to change her mind, so you'll want to keep up the flirtation during your short walk. Rest your hand on the small of her back and keep talking to her. Keep it light and playful. If you find yourself alone with her for a short period of time, like during an elevator ride, kiss her with a little more passion than you did in the bar. Pull her in close to your body for an extended embrace. Whisper in her ear that you can't believe that she's even more beautiful in person. By the time you get to the room, she'll be ready to rip your clothes off.
That's how you close on a first date with a bored & lonely housewife or cougar. If you master these steps, you'll never find yourself going home with a case of blue balls.
* Congratulations! * You Are Ready To Start Meeting Lonely Wives & Married Cougars – Click Here To Get Started –