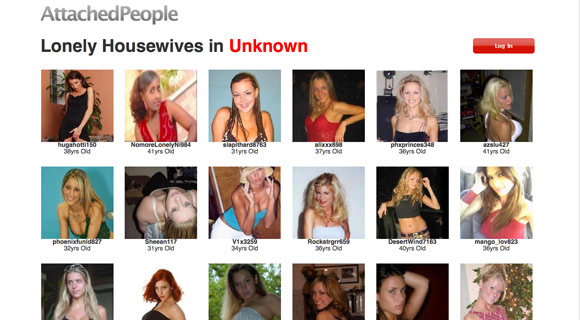 My experience with Attached People turned out to be a series of disappointments, and had I not been committed to researching it for the purpose of this review, I would have felt like a total schmuck for sticking around for as long as I did. I'm nothing if not devoted to the cause, though. So I stuck it out and put in as much time and effort as I did with all of the other sites I reviewed. Unfortunately, my experience was so negative that I can't recommend that anyone join this site. If you decide to try it anyway, don't say I didn't try to warn you!
Massive Numbers of Fake Profiles On AttachedPeople.com
One of the worst things about Attached People is the number of fake profiles you'll encounter. I'm not sure why, but the site seems to have no investment in making sure that their legitimate members have positive experiences. If they did, they'd take measures to get this issue under control. To be fair, I'm well aware that even the best affair dating sites will have a certain number of fake profiles. It's inevitable. But this was completely out of control. When you have trouble locating real women amongst the web cam girls and escorts, something needs to be done. I didn't keep an official count, but if I had to guess, I'd say that there were at least ten or fifteen fake profiles for every one that was real. Needless to say, most of the attractive ladies in my area actually weren't lonely housewives looking for hookups. I sent out 180 initial contact emails, and in the end, I only ended up meeting one woman in person, and she ended up getting cold feet about cheating on her husband, apologizing profusely, and leaving before I could get laid. I have no way of knowing for sure, but based on the responses I got compared to other sites I've used, I believe that only a few of the emails I sent out reached actual women.
Too Much Flirting, Too Little Doing On Attached People
It seemed to me that the most of the real women on the site (if you can even find them buried in the fake profiles) were there for a taste of online flirting, not because they actually wanted to meet up in person for an affair. While online flirting can be fun, I can do that on any one of hundreds of free forums, so I would never shell out a membership fee for that purpose. I had a few women from other parts of the country try to start conversations with me, and when I asked them why they weren't focusing on men in their area, they all said they avoided men in their area because those guys would expect to meet them at some point! Rubbing one off over chat is not the same thing as an in the flesh affair, but for the women on Attached People, it seems like it is.


Annoying Site Glitches
Not that it ended up mattering, since I was never able to get laid using Attachedpeople.com, but setting up my profile took about ten times longer than it should have because I kept encountering site glitches, and all of the information I had already entered would disappear. This was my first clue that the site wasn't going to deliver. Whenever a sex dating site doesn't care enough about member experience to fix this sort of thing, it's practically a guarantee that nothing good is going to come of your time there. I'd say that they really need to look into the issue, but since you're never going to meet women for sex anyway, it's a moot point.
Redeeming Factors On AttachedPeople
In the final analysis, AttachedPeople.com is getting tossed into the discard heap, where all bad affair dating websites go to die. There are too many good lonely housewife dating sites to make it worth the time and money.