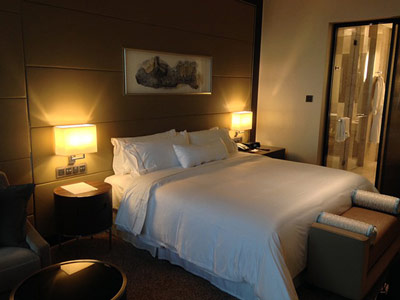 Having an affair with a bored housewife offers so many unique opportunities. You can go to her house during the day and she can come meet you wherever you are. But if you're over too often, the neighbors will certainly start to notice, and there's nothing like a little neighborhood gossip to end an affair. If she's leaving every other day to come see you, there's still a chance neighbors will notice and talk. In either situation, word gets back to the husband, you may find yourself in quite the pickle. So the only answer is to rent a hotel room and escape from your realities, but where do you start? Well relax, you don't have to rent a room at the Waldorf Astoria. Keep these tips in mind when you're picking the right hotel for you and your bored housewife, and you're sure to have a good time.
Know what she expects
Before you make any reservations, make sure you know what you're both expecting from the hotel. Depending on whether you go far out of town or not may change the type of hotel that she expects. If you book a hotel too close to her office or too far away, she might throw her hands up and say "Heck with it!" First you need to decide which places are off limits or not feasible. For example, she may not want to book a hotel room too close to her husband's place of work. The chances of running into someone she knows is much higher, (How to avoid running into people in public) and while it may be exhilarating to be so close and not get caught, it won't be so exciting when the husband's coworker sees what's going on and tell the husband. She may also have family and friends in the area that she will want to avoid. This could include not only her family, but her husband's family as well. If you're going to choose a local hotel, remember that there's a good chance you two could run into people who know you. The more people who know about your affair, the more likely it is that the husband will find out.

Settle on the area
If you're regular about your affair, you might want to frequent the same hotel that is a little off the beaten path and surely far enough from reality. This will keep the air of mystery and excitement alive, meaning your affair will last longer. You don't really have to go any farther than even 50 miles from your own to get a little privacy, and the hotel doesn't need to be in the backwoods, away from all civilization. Do try to put yourself in a town you know that neither of you have family and you know is not a major attraction for anyone. For example, if there is a large shopping center – one that usually attracts people from your town- then there's a chance someone might see you. It's also a good idea to be within an hour of her house. If something happens and she needs to get back home as quickly as possible, being only an hour away can be easily explained. Being three or even five hours away is a little more suspicious.
Settle on a price
As previously mentioned, you don't have to book a room at the Waldorf every time you guys want to meet up. Unless you have endless amounts of cash, you might start to resent the affair when you see it costing you so much money. That being said, this is neither the time nor place for a Motel 8 or a hotel with an hourly rate. She's a housewife, not a hooker, so treat her like a woman. These motels are questionably clean, and there's nothing like a mouse or a stray cockroach to ruin the mood. Your bored housewife may feel hurt or insulted that you'd take her here, so don't shoot for the bottom of the barrel. There are plenty of reasonably priced chain hotels that are clean, comfortable, and discrete. Try to find a hotel with a bar nearby so you can walk over for a few drinks and come back for more fun. You can even role play and pretend to be strangers picking each other up.
You can also look for hotels with spas, restaurants, and other fun features to have a little more fun while you're out together. If you're planning on spending a weekend in bed together, make sure your hotel has great room service. Choosing the right hotel room will ensure that you and your bored housewife have plenty f fun later and don't get caught in the process. Find a right balance of distance and style that will meet all your needs and allow you two to get right down to bus.