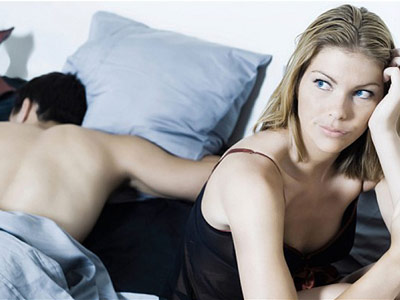 When you're seeking affairs with married women, knowing the reasons women start looking for sex outside of their marriages is one of the best tools at your disposal to help you score. Luckily, human being are fairly predictable creatures, and when it comes to cheating, almost all women give the same reasons for why they're doing it over and over again. Study up, and it will help you figure out what to say and do to be the guy these ladies want to get with. Here are the ten most common reasons women give for cheating on their husbands.
The Thrill is Gone (Reasons 1 – 3)
The top three reasons women give for seeking affairs revolve around the spark dying down in their marriage. #1 is that their husband's don't make them feel sexy anymore. They make snide comments about them having let themselves go or not looking as good after having babies. #2 is that the woman is no longer attracted to her husband. Maybe he's going bald and developed a beer gut, or maybe it's just that familiarity breeds contempt. #3 is that she misses being young and single and being able to sleep with whoever she wants.
His Sexual Habits are Affecting Hers (Reasons 4 – 6)
Other reasons women give for cheating on their husbands have to do with his sexual habits and the effect they have on her. #4 is that he simply doesn't want sex anymore. Sometimes it's because he isn't sexually attracted to her anymore and just doesn't want it, other times it is because his job is demanding, the kids are demanding, and at the end of the day he is so exhausted that all he can do is collapse into bed. Either way, women are sexual creatures, and this isn't something most women will deal with for very long. #5 They are having sex, but he doesn't satisfy her. If a man is lousy in the sack, his wife will get what she needs elsewhere, plain and simple. #6 He is having an affair. When a woman finds out that her husband is cheating, all bets are off. Some women leave. Some stay and do their best to make their husband's life miserable. And some women decide that what is good for him is good for her, and rather than divorce or mope around the house crying, she decides to go out and get hers.

The Relationship is More Business than Pleasure (Reasons 7 – 10)
The last four reasons women cheat have to do with the natural evolution of a long term relationship. Over time, their marriage became more business than pleasure. It might not be a bad relationship, but it isn't sexy anymore. #7 it's all about the kids. These women are staying with their husbands because they are good dads, and maybe they co-parent together really well. The kids are happy, and overall, they're a happy family. They're just not happy together in the bedroom anymore. #8 is that the marriage is a financial arrangement. Staying married benefits both the wife and the husband, but those benefits aren't all that sexy. They're together because it's cheaper than being apart. #9 He's never around and she's always stuck at home with the kids. It could be that he travels for work, is in the military, or just does his own thing, but not only is this woman lonely, she feels trapped. Her days are boring, and consist of cooking, cleaning, and schlepping kids around. She's a professional wife, not an emotionally committed one. #10 The BFF business team. Everyone knows this couple. They've been together since they were sixteen, and they act more like really close siblings than husband and wife. They've got life down to a science, and it all runs like a well-oiled machine. They're in the business of teamwork, and there's no way they're giving it up, but she's also not willing to forego the excitement of sex with other men.
Make it All Work for You
Now that you know the psychology of why women cheat, you can make it all work for you when you're connecting with bored & lonely housewives for affairs. The best way to do this is to look carefully for clues in their profiles, so that when you write your first contact email you can work it in in such a way that she'll think you're psychic. Women are highly attracted to men they think "get" them, so if she thinks you are instinctively picking up on what she is lacking and what she wants and needs, you're a lot more likely to get lucky with her. However, if you can't figure it out from her profile, there is absolutely nothing wrong with asking leading questions to get a better idea of what her motivations are. She might not think you have ESP, but she'll be thrilled that you're taking an interest in her and what she needs and wants, which is something she's probably not getting a lot of at home. Once you know what a woman is longing for, you can be the one to give it to her. If you're worried that this will push you into relationship territory, you can relax. You don't have to meet all of her needs. A starving person is grateful for a crust of bread. A little bit of effort will go a long way towards feeding your affair.